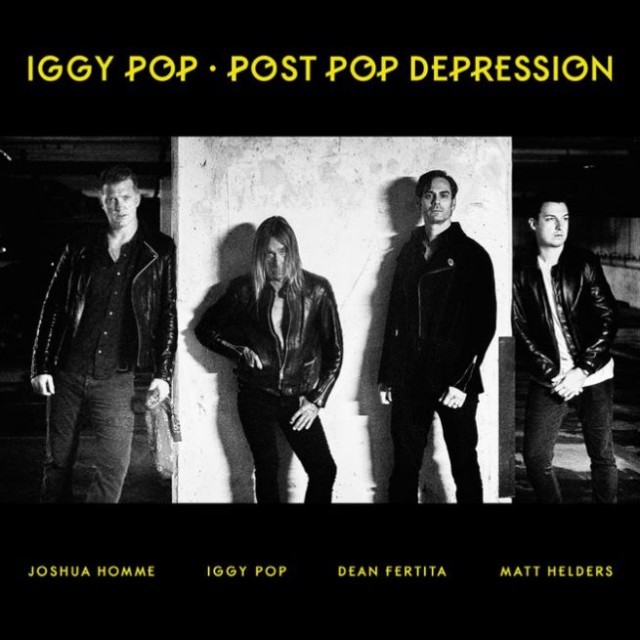 Iggy Pop é tornato (per l'ultima volta?) e per il suo diciassettesimo album Post pop depression, si é fatto accompagnare nientepopodimeno che da
Josh Homme
e
Dean Fertita
dei
Queens of the Stone Age
(Josh Homme é anche il produttore) e da
Matt Helders
degli
Arctic Monkeys
alla batteria. Avevo postato da qualche parte il singolo Gardenia, adesso é l'ora di ascoltare anche tutto il resto. Copertina brutta brutta, secondo me. Hanno preso una foto e ci hanno appiccicato due scritte.
01. Break Into Your Heart
Un Iggy minaccioso (dal punto di vista lirico) e una chiara impronta di Josh Homme nel resto della musica (ovviamente non sará l'unico del brano ad averla). L'opener é buona, il ritornello é forse un po' troppo ripetitivo e cantilenoso ma ha un suo fascino perverso.
02. Gardenia
Come accennato, é il singolo che aveva anticipato l'album e ne avevo giá parlato da qualche parte nel blog. Gardenia ha un non so che di ipnotico e contagioso. Il basso mi piace molto. Il cantato delle strofe mi ricorda molto (ma molto) David Bowie. Bella traccia, la ascolto sempre molto volentieri.
Top Track #2
03. American Valhalla
Inizio a metà tra una canzone di Eddie Vedder con l'ukulele e qualcosa degli Avantasia (eh?), poi cambia ancora e un bel basso semi distorto ci porta a qualcosa di vagamente simile all'ultimo dei Queens of the stone age. L'atmosfera e lo stile non si discostano molto da quanto ascoltato fino ad ora, peró forse il pezzo é leggermento meno ispirato e un po' proliso rispetto ai primi due. Sezione ritmica ancora una volta ottima e bello lo xilofono (!?).
04. In the Lobby
Si alzano leggermente i ritmi, ma le atmosfere rimangono grosso modo le stesse. Il disco si comincia ad appiattire ed una certa monotonia saluta l'ascoltatore. Ma quelle chitarre stonacchiate che fanno da raccordo piacciono davvero a qualcuno? Ma chi le ha suonate? Io non riesco proprio a digerirle. Assolutamente
Skip Track.
05. Sunday
Un ritmo abbastanza "disco" in questa Sunday con le chitarre che stavolta fanno un bellissimo lavoro. A livello di gusto musicale é tanta roba, ci sono un sacco di dettagli gustosissimi da attenzionare ma la composizione, in generale, non lo é. Ancora lo spettro di Bowie poi il finale con i cori femminili che mi ricorda gli Elio e le storie tese (non dite che non é vero), poi i Kiss anni 80 (I was made for loving you) nelle ritmiche. Finale da "Via col vento". Sto cominciando a vaneggiare (come il disco).
06. Vulture
Una chitarra acustica e un ancora minaccioso (poi in falsetto e alla fine delirante) Iggy Pop per questa Western
Volture
(giá il titolo suggeriva questa atmosfera). Molto curata e particolare, ma la vedrei meglio come colonna sonora che come brano di un album.
07. German Days
Un cambio di tempo improvviso, un drumming in evidenza e delle ottime chitarre, spesso stile QOTSA. Anche qui, come in altre canzoni di questo Post Pop Depression, dettagli strumentali da leccarsi i baffi, ma la canzone? Noiosa, ma con con molto molto stile.
08. Chocolate Drops
Canzone piú "dritta" e leggermente meno ricca di dettagli, rispetto a quanto abbiamo ascoltato fino ad ora. Strofa interessante ma un po' troppo ripetitiva per i miei gusti. Gustoso l'intermezzo chitarristico nella parte centrale, ma giudico Chocolate drops noiosa, nel complesso.
09. Paraguay
A parte un bel coro iniziale, la prima parte del brano non aggiunge niente rispetto a quanto abbiamo sentito fino ad ora, a parte degli Shalalalalala abbastanza fastidiosi. Nella seconda parte fortunamente si movimenta un po', il coro che si sente all'inizio si ripropone, la batteria si infittisce sempre di piú e Iggy ci mostra finalmente un po' di grinta al microfono imprecando contro questo e quello. Bisognava aspettare la fine del disco per farlo?
Top Track #1
Se dovessi dare il mio parere sulla bontá del disco, sulla produzione e su tutti i dettagli da attenzionare, non potrei fare altro che parlare bene di questo
Post Pop Depression
, suonato in maniera eccellente. La veritá nuda e cruda é peró che non ho molta voglia di ascoltarlo altre volte
.
Nonostante sia un album snello (9 tracce per poco piú di 40 minuti di musica)
secondo me non scorre benissimo. Durante l'ascolto mi sono annoiato in diversi punti, colpa delle linee vocali spesso cantilenanti di Iggy o per brani spesso privi di mordente o di quel qualcosa in piú per rimanerti in testa o invogliarti a dei successivi ascolti.
I brani veramente degni di nota sono, purtroppo, ben pochi.
Voto 59/100